Shell's Story
Shell sustained her burn injury in 1984 aged 13.  She sustained a flame burn covering 50% of her body – her face, arms and hand.  This is her story.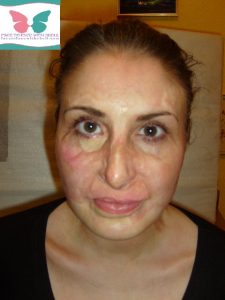 Hi, my name is Shell (short for Michelle).
I was in a gas explosion way back in 1984, when I was thirteen years old.  I was on holiday in Spain with my family.  This was my first ever holiday abroad.  My gran and her friend were killed in the explosion, and my cousin and I received first, second, third, and fourth degree burns.  My cousin, seventy-five percent of her body and me, fifty percent of my body.  We were both very lucky to be alive.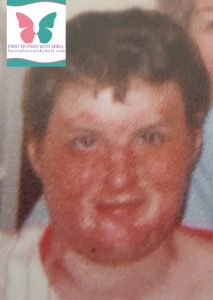 We spent only one night and day in Barcelona Hospital, before being flown home by air ambulance.   We spent months in Bangour Hospital – my cousin nearly nine months and myself nearly five months (photo from 1984 in hospital).   Over these months we endured countless operations and skin grafts, along with physiotherapy.
My main injury was my right hand.  This was very badly damaged and I would come back into hospital time and time again so that I may have a "functioning" hand.  My face was badly burned as well as my arms.  I would receive skin grafts to these as well.  I attended hospital for many years for ongoing surgeries and physiotherapy.
My cousin and I both rebuilt our lives, although tough at first, as we started to go out again and let the world see us…as the "new us".
I attended hospital into my thirties.  I don't have any medical procedures as such anymore but I do attend an aesthetic health practitioner; she helps with my skin care.
I worked in the NHS for thirty years; my main career being in Human Resources (I attended college to allow me to further this path).  Laterally, I worked in Adult Mental Health.
My husband and I got an opportunity a few years ago to go travelling.  We spent two and a half years backpacking and doing volunteer work around Europe.  Our most favourite place was Romania and our favourite place that we worked, was a chateau in France.  What an amazing time we had…and the people we met…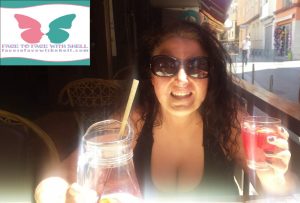 We returned for just over a year to Scotland and have headed off again.  Currently (November 2018) we are in Portugal.  We are both taking new career paths. I am developing my own website and YouTube channel on burns, etc., and they are now up and running.
Website:  facetofacewithshell.com
YouTube channel:  facetofacewithshell
If you are interested, please visit them.  There is also a link to my website in the Survivor Stories section of this website,  survivor stories.
I want to show people and tell you here, that being burned/disfigured/looking different is not the end, it can be the beginning to a whole new life that is full of opportunity and hope.
Love Shell xxx
If you feel affected by any of the issues in these personal stories please let us know using the contact form.
If you would like to speak to someone, you may call the Samaritans FREE on 116 123 or visit the Samaritans website.  Please do not suffer in silence.
For more information about support please visit the NHS Choices pages on mental health or suicide.
If you would like to read more survivors stories, there are many available on the internet which we have signposted to from this site: Survivor Stories