Rob's Story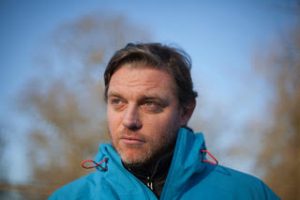 Rob suffered a burn injury in 2010 aged 30. He sustained a flame burn covering 43% total body surface area – the lower part of his body, back, arms and side. This is his story.
In January 2010, I was working as a dive instructor in Zanzibar when the generator that was powering my house exploded and I was set on fire whilst trying to escape.   I sustained a 43% Total Body Surface Area burn to the lower part of my body, my back, arms and my side.  I spent the next 10 days in a hospital in Dar es Salaam but with the lack of specialised burns medical care, my life was slipping away.  A commercial airline took pity on me and flew me back on a standard flight to the UK eventhough the medical team thought I would be dead on arrival.
Against the odds, I survived the flight and was transported to Chelsea and Westminster Hospital, London with only a 27% chance of survival.  The fantastic team fought to save my life – I was put into an induced coma for a few weeks and spent about a month in intensive care.  I had to learn to walk again.   Walking is something that I took for granted.  The simple ability we all have to just hang our legs off the end of a bed and stand sounds, and is, very easy…but at that point it was impossible for me.  Rehab consisted of just that, trying to hang my legs over the end of the bed for a few mins a day, progressing to just sitting in a chair for what felt like hours but was only 20mins or so. As I got stronger over the next month, I progressed to standing, then what can only be called shuffling, with a frame, to finally walking about 5 months later.  Physio was daily for a few hours a day while in hospital and continued once I had left.  I started to piece my life back together and was introduced to the charity Dan's Fund for Burns who were able to provide some financial and emotional support when I desperately needed it.  Many people think the fire and pain of physically healing is the hardest part of being a burns survivor, and maybe it is for some.   For me, the emotional healing, that mostly goes unseen was by far the hardest part.  Having people to talk to who understood what I was going through made the difference for me.   This helped me gain confidence to build a new life for myself.
Although I was walking after about 6 months, all in all it took me the better part of 3 years and a good few more operations to be able to walk without a limp.   Now, I sometimes forget that there was ever any problems – running is still a little hard, but I'm up for a race if anybody ever asks!
It has been 7 years and 31 operations and I will still require more operations in the future.  I have started a new business,   I'm hoping to do an expedition to the South Pole which has always been a dream of mine and I have a beautiful baby son.  I feel like I am now stronger than I was before the accident and looking forward to the future.
If you feel affected by any of the issues in these personal stories please let us know using the contact form.
If you would like to speak to someone, you may call the Samaritans FREE on 116 123 or visit the Samaritans website.  Please do not suffer in silence.
For more information about support please visit the NHS Choices pages on mental health or suicide.
If you would like to read more survivors stories, there are many available on the internet which we have signposted to from this site: Survivor Stories