Kim's Story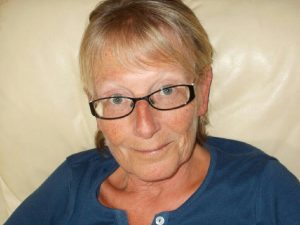 Kim was burned in 2014 aged 56.  She sustained 28% full thickness burns on her upper torso, upper arms, neck and face.   Her burn was self-inflicted using petrol.  This is her story.
My new life began on 24th August 2014. My burns were not the results of an accident. I poured petrol over my body and set fire to it. The last thing I remember, apart from the raging rush of flames and heat was screaming for my husband.
I suffered 28% full thickness burns to my upper torso, both upper arms, neck and face. I was airlifted to the countries major burns unit in Swansea and spent 5 days in an induced coma.  I had major surgery for the worst areas where I had numerous skin grafts.  I think I underwent about 5 operations at that time.  I was transferred to Southmead burns unit in Bristol, where I had many more corrective operations on my eye and neck.  In all I spent 11 weeks in hospital. I wanted for nothing. They provided fantastic physiotherapy, and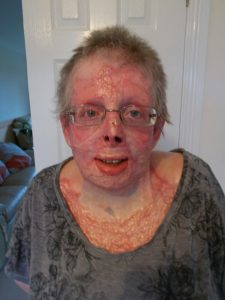 also I had a psychologist who provided me with support.  I was lucky to have the best team of plastic surgeons who continue to see me on a regular basis.
I am lucky in respect that I didn't know what my husband was seeing at the time. He's told me bits and bobs but I don't really know the full extent of what my injuries must have looked like, only that he said that I was black all over.
Now, 37 months later I'm scared of course, and will be for life. People do look, particularly children who for the most part have puzzled expressions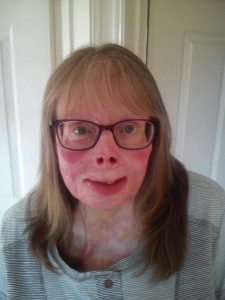 on their faces. I have a lot of camouflage make-up and skin care which has been prescribed for me. At the moment the scars are still quite raised so I don't wear makeup that often. When I do, it takes me up to an hour just to get the foundation right!  The best skin care product which is available on prescription is Scarsil which I apply every morning to my face.  This is wonderfully light on the skin and contains silicone which helps to soften the scars.  My family and friends have accepted that this is me now and there is no turning the clocks back.
I am currently waiting for funding approval from the North Devon Hospital Trust in order that I can have laser treatment on my mouth. I can't open my mouth very wide due to constrictions on my face so I remain hopeful that this will be given the go ahead which will enable me to keep food in my mouth and not on my chin!   My skin is hypertrophic and as a result the scars thicken and produce more scarring which gets tighter and tighter over time.  My neck is the biggest problem and I have had 3 operations so far including a full thickness skin graft.  The last one which was towards the end of last year seems to be tightening again so it seems likely that there is more surgery to come.
Looking back, I was in a very dark place and I wish I had been able to get the help and support I needed earlier without reaching that point. But I did and it was the catalyst that changed my looks, my personality (for the better).  My marriage to my wonderfully supportive husband is a happy and loving relationship. I will be forever grateful for his love and support. We find we laugh louder and longer than we did before my new life began. I hope that anyone who finds themselves in a place like that would be able to ask and receive the help they need sooner than I did.
If you feel affected by any of the issues in these personal stories please let us know using the contact form.
If you would like to speak to someone, you may call the Samaritans FREE on 116 123 or visit the Samaritans website. Please do not suffer in silence.
For more information about support please visit the NHS Choices pages on mental health or suicide.
If you would like to read more survivors stories, there are many available on the internet which we have signposted to from this site: Survivor Stories.