Adele's Story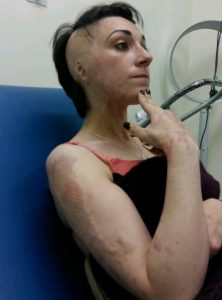 Adele sustained a burn injury in 2014 aged 22. She has a chemical burn from acid on 17% of her body – the side of her head including ear, neck and arm. This is her story.
On August 14, 2014, aged 22, I was waiting at a bus stop when someone went past and threw acid at me.  I had 17% burns on the side of my head, neck, arm and ear.   I lost my ear completely and I remain bald on the side of my head where the acid landed on me. The intent was for the acid to be thrown in my face so I was lucky that right when it was thrown, I was speaking on my mobile and had turned my head for some reason so the acid landed mostly on the side of my head, not my face, and although a bit went into my eye, it was diluted so there was no damage to my eye.    I had been in an abusive relationship with a controlling partner for 6 years and was scared to leave him.   It turned out he had paid someone to throw acid on me.
I spent 8 weeks in Broomfield Hospital, Chelmsford and although the hospital was a two hour commute from where I live, I went back every other day to have my dressings changed because I knew and trusted the team there. I have had skin graft operations and wore pressure garments for 18 months – arm band, full body suit, fabric face mask at night and plastic one in the day.  I would definitely recommend to anyone with a severe burn injury that they wear pressure garments.  They may be awful to wear but they are so good and make a huge difference to what your scars look like over time. I made contact with the Katie Piper Foundation following my injury and in February 2015, they arranged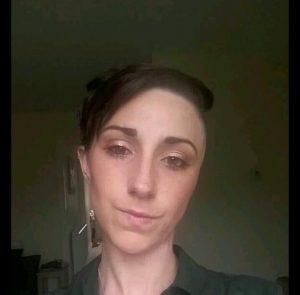 for me to have 4 weeks of intensive treatment at a rehabilitation facility in France.   I had physiotherapy on my neck 3 times a week for 2 years and continue to have it once a fortnight as I have restricted movement due to the thickness of my scars.  I've had laser therapy 5 times to help flatten my scars and change the colour back to my skin colour.   I will need a few more operations, one to release the pressure on my neck and the other will be to stretch my scalp using tissue expansion so that my hair can grow on that side of my head again.
My burn injury has made me strong and not afraid to take a stand if I feel something is wrong.  I have written a book called 'Brave – How I rebuilt my life after love turned to hate' which published in September 2016.  I campaign for domestic abuse to be talked about at schools so young people can be educated as to what is and isn't acceptable in a relationship and that controlling behaviour is wrong.  I had been in an unhealthy relationship for 6 years from the age of 16.   I have scars for life because I was scared and should have done something sooner – I am able to use what happened to me to help others learn they should not put up with domestic abuse.
If you feel affected by any of the issues in these personal stories please let us know using the contact form.
If you would like to speak to someone, you may call the Samaritans FREE on 116 123 or visit the Samaritans website. Please do not suffer in silence.
For more information about support please visit the NHS Choices pages on mental health or suicide.
If you would like to read more survivors stories, there are many available on the internet which we have signposted to from this site: Survivor Stories